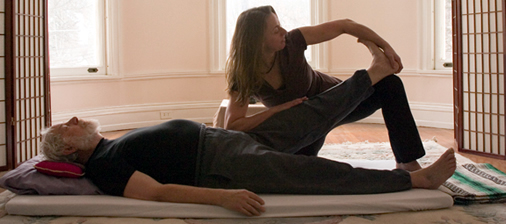 Treatments & Techniques
Dominique uses a blend of different techniques such as therapeutic massage, traditional Thai massage, hot stone therapy and yoga instruction. She will recommend a treatment based upon your particular needs.
Therapeutic massage
Soothing Swedish techniques for relaxation and stress release combined with deep tissue work and trigger point application to help release muscle tension caused by injury, stress emotional tension and chronic muscle pain.
Thai massage
Powerful ancient eastern massage therapy that incorporates elements of mindfulness, loving kindness intention, techniques of gentle rocking, deep stretching and rhythmic acupressure on specific energy line to help restore health and balance.
Hot stone therapy
Therapeutic massage followed by the application of heated basalt stones gently, yet firmly smoothed on the body. Deeply relaxing and grounding.
Yoga Instruction
Deeply therapeutic and Healing. Focuses on the inner and outer alignment of the body so that Prana (life Energy) can flow freely to allow balance and harmony of body and mind. Her yoga teaching is influenced by the Astanga, Vinyasa flow, and Iyengar traditions.
Dominique offers private and group yoga classes.
Special Needs
Dominique is experienced in working with cancer, terminal illness, pregnancy, accident and surgery rehabilitation, stress and repetitive use syndrome.
Back to Top